In this blog, we dive into the available printing plate-making techniques and how these technologies can help you overcome 3 significant challenges to maximize your qualitative output and ROI.
Screen label printing vs. digital label printing
Label printing is big business, with the global market forecast to be worth an incredible $50bn by 2024. Flexographic print technologies still dominate the global market, but things are changing. At the mid-price and premium end, screen printing – where inks are directly applied to a product on a mesh – delivers vibrant colors and precise details at an attractive price point.
Pick up any industry magazine or attend any conference, and you'll see massive excitement at digital printing. New digital label printers can transform print files into production-ready artwork faster than ever, enabling rapid iteration. However, there are concerns about the ability of new technology to deliver quality at scale.
Labels are key elements in consumer choice
The decision to stick with label screen printing or go digital is one that all businesses are grappling with, but it's particularly relevant in the alcoholic drinks industry. The sector accounts for 30% of global label printing, says Smithers, and is an industry known for elaborate designs and innovation.
Drinks manufacturers are constantly searching for new ways to stand out on the shelves, with bottle shape and labelling key differentiators. Why? Because consumers use labels to judge the quality of a wine and gain the confidence to make a purchase, industry researchers have found.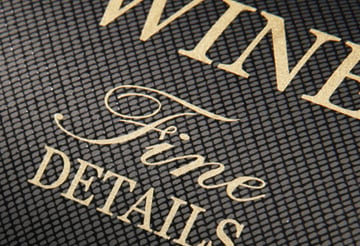 Global wine producers with an established brand or those targeting cost-conscious consumers will continue to use flexographic print. For the others who are vying for a share of the ultra-competitive mid—priced market, they face a choice between traditional analogue screen label printing and new digital label printing options.
Here are 5 reasons we believe screen label printing has some significant advantages over digital label printing.
Benefit #1: Unrivalled image quality
Traditional screen printing techniques use richer and thicker inks that deliver a better-quality printed image. Our fictional wine manufacturer can experiment with elaborate designs, including detailed pictures, precise lettering, and sharp graphics. Inks can be layered to add depth, making label designs pop off the shelves – capturing a customer's eye. This can include glitter inks that contain coarse particles to create a vibrant finished label.
Digital printers use thinner inks, which are pushed through nozzles. This can lead to muted or inconsistent color reproductions, a problem more likely to occur in larger batches. On the other hand, digital printers are better at reproducing pictures.
As digital printing technologies improve, the problems we've identified will inevitably be overcome – but today and for the medium-term future, screen label is the best option for high-quality image results, including large blocks of colour and opaque whites.
Benefit #2: Durability & longevity
Screen-printed labels are more resistant to wear and tear and can stand up better to transportation. This is because the nature of the inks used and the curing process make them less likely to be affected by moisture, sunlight, or damage while being handled. Adding a varnish coat to labels can protect your design, ensuring lettering and images remain fresh wherever they end up in the world.
While digital labels are durable, they are more likely to be affected by changes in temperature and moisture as they move through the logistics chain. This can impact customer experience and brand perception. While you can add additional protective coatings, this increases costs.
Benefit #3: Unique finishes and textures
One of the unique benefits of label screen printing is the ability to introduce unique finishes and textures. Brand owners can use glitter, metallic, fluorescent, or even phosphorescent ink during printing. This enables label designers to get creative, using ink to build up layers, making labels more tactile and inviting. This is a crucial way for brands of all sizes to stand out among competitors and inspire customers to purchase.
Digital printers cannot lay down ink in thick layers and are unable to produce the specialised finishes and raised textures achievable with screen label printing. While designers can find creative solutions, screen label printing gives them access to various unique finishes and textures that are essential for bolder brand designs.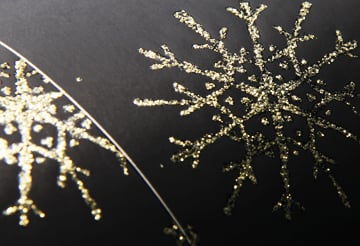 Benefit #4: At-scale printing
The per-unit label printing cost decreases significantly with volume, making it ideal for brands looking for large-scale production.
Digital screen printing, in contrast, is the most effective print option for short runs and personalised labels. Beer brands, for example, are increasingly producing short runs of new varieties to test the market. Digital printing enables them to create low numbers of labels quickly. When they're ready to scale up production, label screen printing is the most suitable option.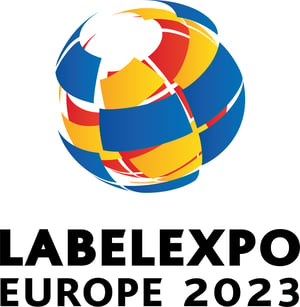 SPGPrints as your reliable label screen printing partner
Businesses should investigate all options before investing in a screen printing technology. The developments in digital label printing are exciting, and while it's inevitable that issues of image reproduction, print quality, and texture will be overcome in the future, for many businesses, screen label printing remains the superior option.
At SPGPrints, we have years of experience in label screen printing. Our experts are ready to advise and help you with your label printing challenge. We can offer more than machinery; we can optimise your workflow –from prepress, RSI and the machine itself. Our solution ensures no gaps, blockages, or barriers, ensuring the most significant impact at the lowest cost.
Looking for expert advice? Our specialists will be happy to enlighten you on all the possibilities for your label printing job.