In this blog, we dive into the available printing plate-making techniques and how these technologies can help you overcome 3 significant challenges to maximize your qualitative output and ROI.
CTP or DLE: What's best for precision can printing?
Conventional plate-making (known as computer-to-film or the analogue method) uses a negative film and UV-A light to image the photopolymer printing plates. Compared to the more advanced technologies, this one delivers the lowest qualitative output due to a lack of precision. Not surprisingly, this method is losing ground: only a few global film suppliers remain, and the film material gets increasingly expensive.
Advanced "digital" plate-making technologies include Computer-to-Plate (CTP) and Direct Laser Engraving (DLE). CTP is the most widely applied technology and uses digital data to image the design on the printing plates. Low-power laser diodes are used to image the printing plate by ablating a black mask on the plate and curing the polymer underneath with UV-A light. It is a cost-effective solution for medium to large print runs and delivers satisfying results, especially for less intricate designs. Compared to DLE, this technology is easier to apply and cheaper to implement.

Computer-to-plate (CTP): SPGPrints' TITANIUM pre-press system
DLE uses a high-power laser to shape the printing form precisely and is not affected by the direction of the light. This enables you to create optimal dot shapes, varying between small and larger elements. More minor elements can be lower as larger elements to prevent dot gain in the print. Some significant advantages of this plate-making method:
Besides plate material, DLE also allows imaging ITR (in-the-round) printing forms;

DLE is not dependent on the way of light to shape the image, resulting in more 3D shape customization possibilities of the relief image.
The DLE plate-making method is an excellent choice for premium brands and can makers that require exceptional print quality and have the budget to invest in the latest technology. Implementation costs are higher, but these can be recouped by cost-saving aspects in your printing process.
Here are some challenges that digital plate-making technologies can solve.
Challenge 1: Optimizing pre-press and print workflow
Workflow optimization involves streamlining processes to meet tight deadlines without compromising print accuracy and consistency. DLE and CTP solutions enable quick and precise imaging of printing forms, reducing set-up times and minimizing errors. The RIP (Raster Image Processing) preparation is critical to the quality of can printing. RIP converts digital images into dot patterns that transfer the image onto the cans. This process ensures accurate color reproduction, sharpness, and overall quality in printed designs.
Traditional RIP processes are done offline, which can be time-consuming. "On the fly" RIP, on the other hand, significantly contributes to a shortened workflow because image processing and rasterization are done simultaneously - combining 2 steps in your workflow. The best results are achieved when software and hardware are perfectly aligned together. This creates precision outputs with no errors.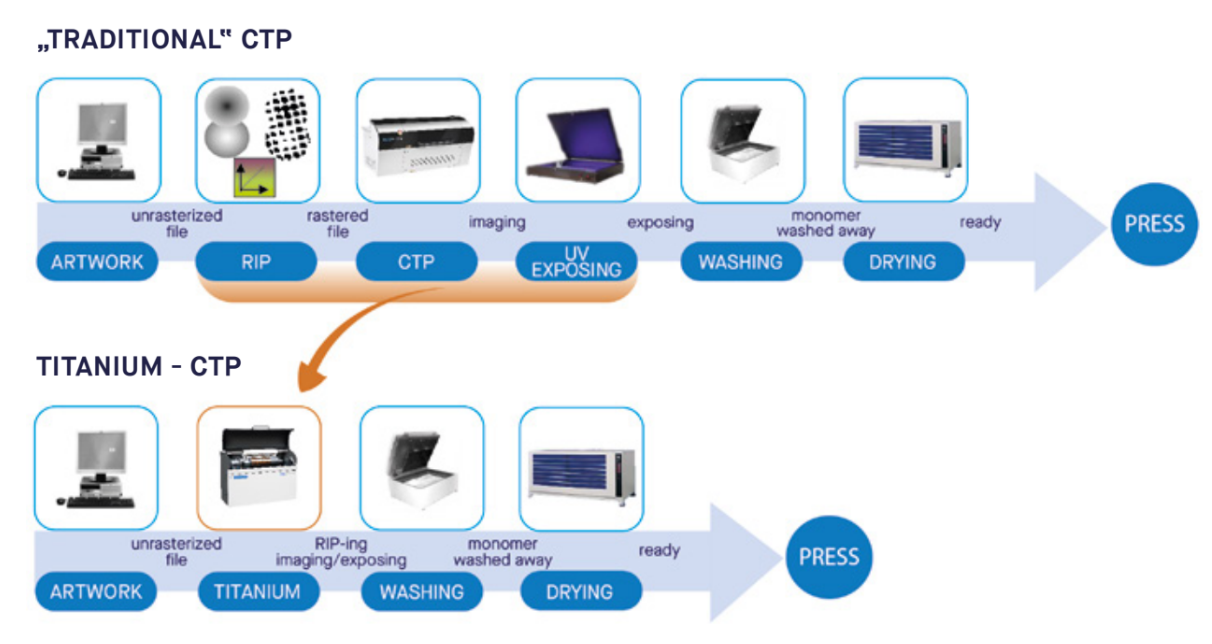 The Titanium Laser Engraver with an on-the-fly RIP system comes with SPGPrints' unique software solution. This allows the use of all common file formats in the graphics industry. Ablation and exposing are carried out in a single step, eliminating the offline main exposure.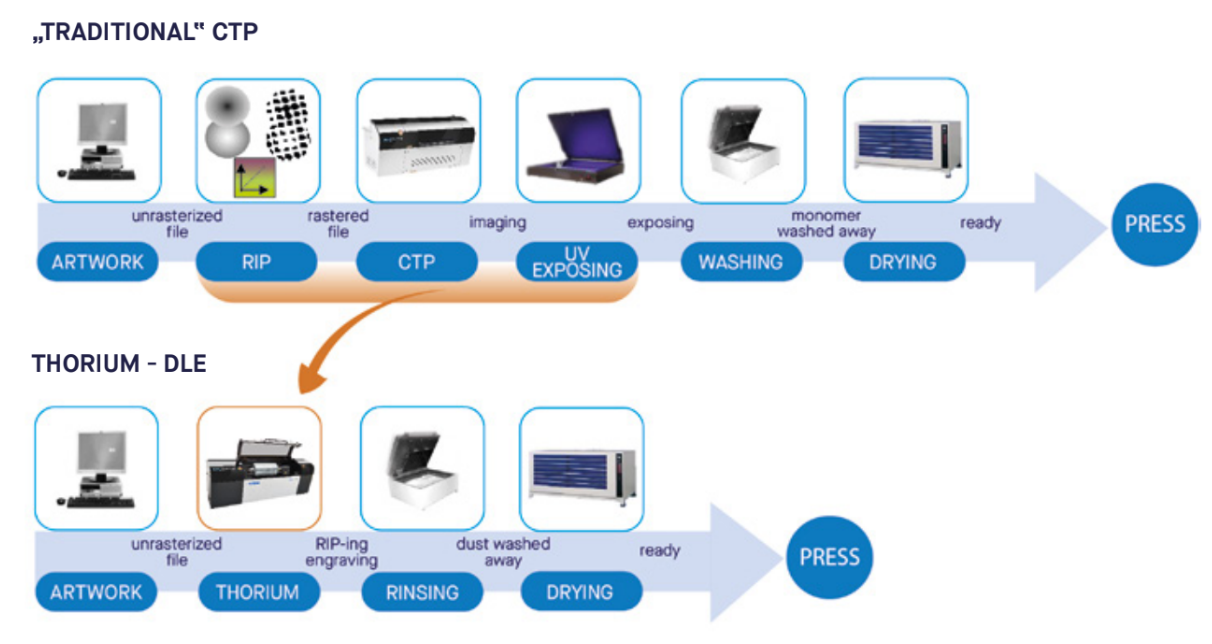 The Thorium Direct Laser Engraving system from SPGPrints is a multifunctional system that provides high-quality with longer runs due to Active 3D® dot shaping and below surface dot. The single-step dry process means a shorter workflow.
Challenge 2: Ensuring consistent print quality
Customers expect every can that leaves the production line to be the same quality. Unlike analogue methods, CTP and DLE solutions deliver perfect reproducibility across the biggest production runs. Manual steps are minimized, reducing the chances of human errors and inconsistencies.
On top of that, DLE also eliminates the need for intermediate masking materials or film, which can introduce inaccuracies and inconsistencies. This leads to more accurate and faithful reproduction of designs. And as the engraving process is controlled digitally, DLE offers excellent repeatability in terms of consistency across multiple print runs.

Direct Laser Engraving (DLE): SPGPrints'THORIUM Direct Laser Engraving System
Challenge 3: Managing can printing costs
Can making is competitive; we know you're searching for high-quality print solutions that control costs. It is important to not only look at the initial investment but to take on a broader view of the total cost of ownership. DLE is a larger initial investment than CTP, but DLE justifies the investment for premium brands that won't compromise on print quality. For manufacturers with larger print volumes and budget constraints, CTP remains a solid choice, balancing quality and costs. It is important to also take into account the cost associated with for example, energy usage, waste handling and personnel.
When weighing up your options, our specialists can provide expert advice on maximizing the return on your investment. We'll help you calculate the ROI on each solution, including initial set-up, operations, servicing, maintenance, and repairs. You can understand the true cost of ownership and a realistic ROI bespoke to your business.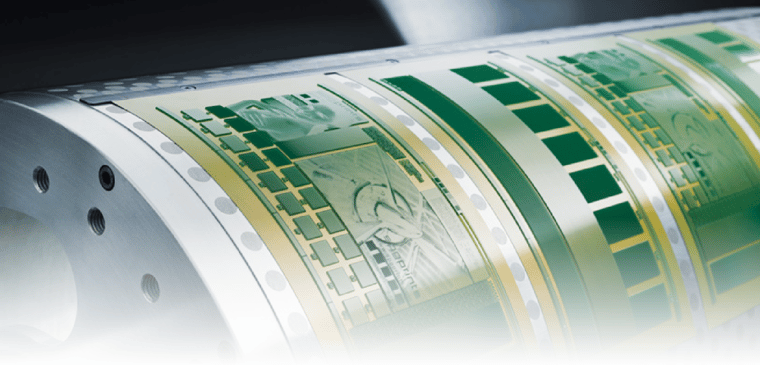 Direct Laser Engraving
Turn can printing into a competitive advantage
Investing in high-quality plate-making solutions from SPGPrints can give your business a competitive advantage in an increasingly challenging market. Beverage producers want partners that can deliver quality results at scale ­– and won't accept alternatives.
Whether printing intricate or less challenging designs, SPG Prints' technologies repeatedly produce the same high standards. We offer customers a choice of investing in CTP, DLE, or combining both technologies. Download our pre-press portfolio with all our solutions here.
Our experts can work with you to understand your current customer base, potential new clients, and growth plans. We'll help you develop a road map including software, hardware, and support solutions to increase your business's success.