At SPGPrints, we're excited about the potential for digital inkjet textile printing, but we see a future where both technologies can coexist. Let's have a look at why we believe conventional printing will remain at the heart of the industry:
#1: Print on any fabric color
One of the significant benefits of rotary screen printing is the ability to print not only on white fabric, but on any color fabric with the same machine. Printing blue on black, for example, is possible because of the chemicals used.
During the rotary printing process, chemicals remove the ground color and replace it with the new color. This is impossible for digital printers that use printheads to deposit color on top of fabric. As a result, digital printers can only print directly to white fabric. Rotary printers can print any chemical that can be used on fabric in one machine, adding flexibility to your print processes.
#2

Print on any type of fabric
The same rotary screen printer can print directly to several types of fabric, including polyester, silk, wool, cotton (or a combination). All you need to do is to change to the respective print paste, enabling you to run all production on a single machine type. This enables print businesses to maintain quality while ensuring flexibility.
Digital printers, in contrast, cannot change the different types of inks frequently and can only print on fabrics within the same fabric family. You need different machines to print on different fabric types – which can massively increase initial investment, operating costs, and maintenance.
Finally, for the best results, digital printers require flat fabrics. Rotary machines, in contrast, can print effectively on most fabrics including pile, and velvet fabrics.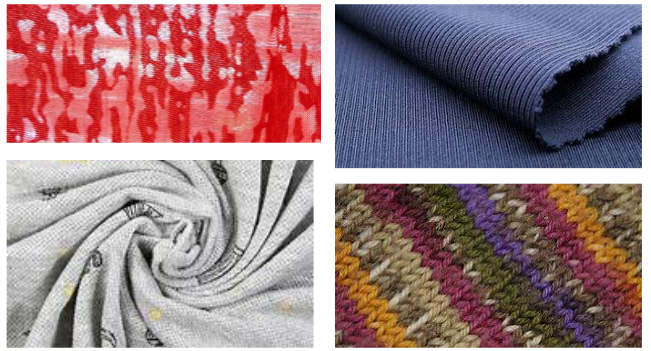 #3

Fancy prints and special finishes
Printing complex designs and using special finishes is particularly desirable for print businesses that work with fashion clients or produce clothes or other items for children. Rotary printers can produce complex designs and print with glitters, solid particles, and special finishes like burnout effects, anti-slip dots, etc.
Digital printers cannot work with heavy pastes, meaning rotary screen printing is your only option for large runs. Modern rotary printers are also able to faithfully reproduce complex designs, delivering a high-quality finish meter-after-meter.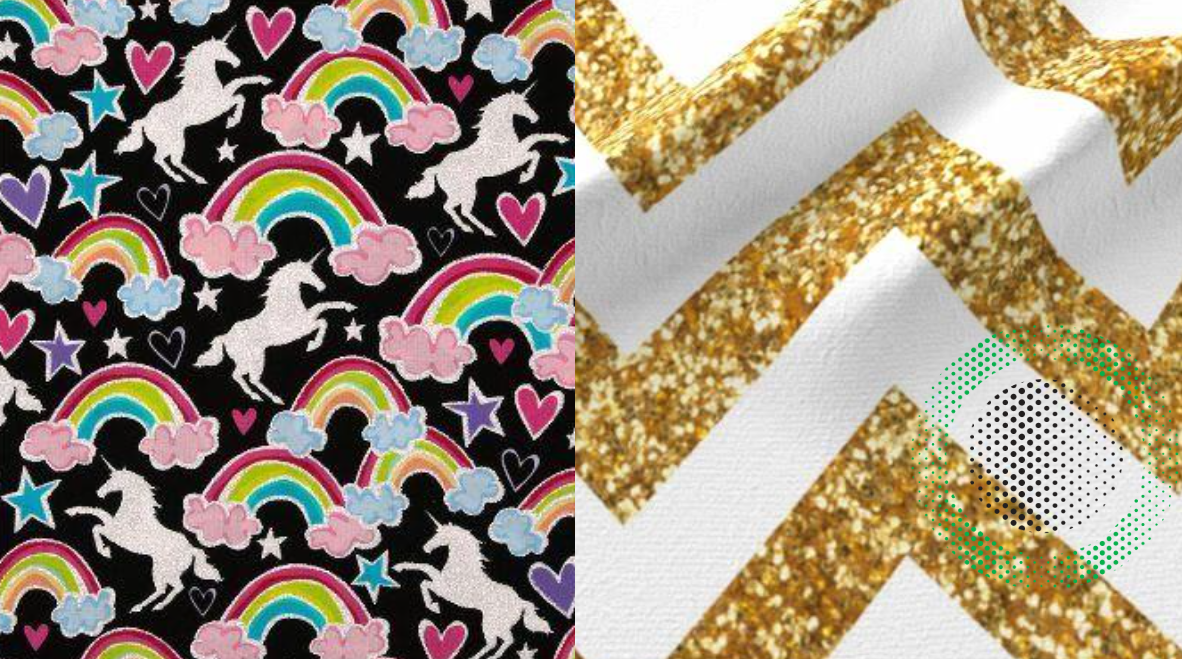 #4 Cost-effective for higher volumes
For most print businesses, cost-per-meter is a critical calculation. While digital printing excels at short lengths, when printing over 1,200 meters, rotary printing is the most cost-effective solution.
One of the benefits of digital printing is the speed and simplicity of starting print jobs. Rotary machines take time to prepare, which increases costs. When printing in small volumes, the cost-per-job is too high. However, when printing large volumes there's no contest: rotary wins every time.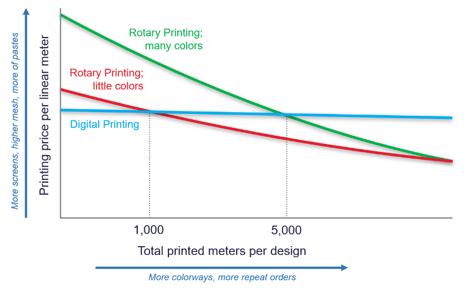 #5 Full penetration on any fabric type
One of the lesser-known benefits of rotary printing is the ability to penetrate the fabric fully. The result is a design visible on both sides of the fabric – without needing to print on both sides. This can save print businesses time and cut production costs. Scarves are a great example of double-sided printing, but full penetration is possible, even on thicker fabrics.
Digital vs. rotary → Digital AND rotary
The rise of modern printing technologies gives printing companies a difficult choice to make: Which printing method best suits my printing process in terms of delivering economic and qualitative benefits? There's a tendency to see digital and rotary printing in opposition – but they complement one another. Rotary screen printing allows for solutions that digital is not yet able to offer.
The versatility of a rotary screen printer enables you to print the most complex designs on any color and any fabric using one and the same machine. Moreover, full penetration, fancy prints, and special finishes are only possible with conventional printing. While digital printing technologies have made giant steps forward in cost and reliability, we believe rotary printing will remain at the heart of the industry for many more years to come.
TEAK: Universal repeat printing at its finest
With all these advantages in mind, we are excited to tell you that we have recently launched the new-generation universal repeat textile printer: TEAK. The improved price-performance ratio, combined with the service and stability of the SPGPrints organization, is the perfect solution for high-quality and reliable printing:
Improved price-performance ratio
5 repeats per run length instead of 1
Wider width (10% increase) is possible
Do you want to know more about the benefits of TEAK and its specifications? Download the brochure here or easily schedule a One-on-One with our Rotary Screen Printing Specialist and get expert on how to best tackle your conventional printing challenge: