In our blogs, we discussed a lot of challenges, opportunities and techniques related to Industrial Printing and Printed Electronics.
There are still a lot of questions remaining, which is why we created this FAQ Page. Do you have a question about Industrial Printing that is not answered in the topics below? Please don't hesitate to contact me or my colleagues, we'd love to help or advise you.
Specifications: what are the dimensions I can reach with rotary screen printing?
The specs of the various machines allow it to print substrates from 250 up to 1400 mm in width and from 355 to 914 mm in repeat sizes.
Specifications: what about accuracy? How fine are the lines you print with rotary screen printing? And how accurate is the register accuracy from one print to the next?
The exact accuracy is difficult to determine, as it depends on many factors. It is not only the printing technology that determines what the result looks like, also i.e. the substrate and ink play an important role.
We can only give concrete specs once all the circumstances are known and tested. Do you print on paper or foil? Is your ink thick or thin? And what is the desired speed?
We can give a general indication of the achievable register accuracy: 100µm register accuracy is feasible with rotary screen printing. And for the resolution with the 405 mesh (405 holes per linear inch), we can reach 80 µm. In conclusion, rotary screen printing can achieve high accuracy, but it depends on the circumstances, you can always contact our specialists for advice.
Integration: how easy is it to integrate a rotary screen printing machine?
If you realize that RSI stands for Rotary Screen Integration you understand that our rotary screen solution is designed for easy and smooth integration into your existing line. Our machines can be integrated into every roll-to-roll system.
Find out more about the RSI integration solution in our free-to-download brochure.

Printing process: on what type of substrate can you print with rotary screen printing?
The main condition is that you print roll-to-roll. If this is met, any type of substrate is possible. Paper, non-woven, textile, foil, and much more - your type of substrate can be printed with a rotary screen printer! The standard units are limited in substrate thickness, up to 3 mm. But this can be expanded according to the requirements.
Printing process: is it possible to print sheet-to-sheet as well?
No, unfortunately, this is not possible with rotary screen printing.
Printing process: can I print seamlessly with rotary screen printing?
Yes, rotary screen printers are able to print seamless designs. In our mesh program, we have several seamless specifications in mesh count as well in repeat size.
There are custom-made solutions that allow you to make seamless prints endlessly, so if this is a challenge of yours, please contact our experts for possible solutions. They'd love to help you with advice!
Printing process: what are applications I can print with rotary screen printing? For example, can I print solar panels?
There are numerous applications you can print with the help of rotary screen printing. Solar panels are a well-known product printed with this printing technology, but there is more.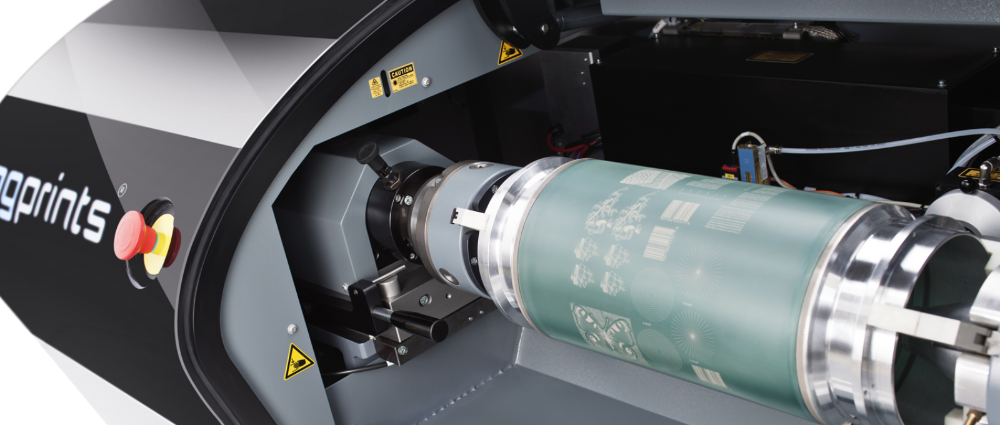 For example, the healthcare market also uses rotary screen printing for various applications. For other examples of applications, check our Printed Electronics page or Industrial Printing blogs.
Printing process: is the rotary screen printing equipment suitable to use with solvent / ATEX?
Yes, our rotary screen printing machines can be delivered ATEX certified. In principle, you can print anything as long as it is fluid. Besides solvent-based pastes, we have many experiences with UV curable, water-based and plastisols in all kinds of different applications.
Prepress process: how do I get my screens engraved?
You can choose to take care of the pre-press yourself entirely, but we can also take this off your hands. We have everything in-house to take care of the prepress completely.
This means that screens can be delivered ready-to-print. As said, you can also arrange everything yourself, or choose to let us do part of it and take care of the other part yourself. We adapt to your ideal process!
Inks: is my ink suitable to apply with rotary screen printing?
Rotary screen printing is very flexible in terms of ink use. Particle sizes up to 190 mu can be applied without problems. The system is also very flexible in terms of viscosity. Almost all types of fluids can be used!
Does your ink have to be able to conduct electricity? Read more about this in our blog on Conductive Inks.
Inks: which ink suppliers does SPGPrints work with? Which inks can I use in my printing process?
We work with all the major ink suppliers, so there's a good chance we're already working with your supplier. Is that not the case yet? No problem, we use the ink which is available and determine with you the best way to move forward. This could be that the ink needs to be adapted to the process or vice versa.
Costs: is rotary screen printing expensive?
Rotary screen printing could be a relatively large investment, but it is designed for big volumes. The bigger volumes you print, the cheaper the costs per product will be. Let us determine together from where rotary screen printing can be more cost-effective than other technologies. Is rotary screen printing the most efficient printing method for your business?
Costs: how big is the investment if I want to use rotary screen printing for my Industrial Printing manufacturing?
You don't have to make an investment right away. At SPGPrints we also offer rental units, so you can try out a rental machine and see if rotary screen printing is a suitable solution for your company. Ask our specialists about the possibilities.
Personal advice: can I get a contact in my own region/country?
As a globally operating business, we have printing experts all over the world. This means that you'll always get a contact in your own region, who's at your service whenever you need it.

Personal advice: can you offer the solution for my Industrial Printing challenge?
We can deliver single print units, but we can also supply the entire printing line and everything in between. Every business and printing line is different, so we love to think along with your specific challenge and its associated solution. We're more than just a supplier; we want to be a strategic partner who thinks along about what is needed for success.
So… What's your challenge? We'd love to hear from you!