In recent months, COVID-19, also known as the coronavirus, is holding the world in its grip. The effects are felt everywhere, in all countries, industries and businesses. The virus also has some serious consequences for the textile industry. Logically, a lot of people within the industry wonder what impact this pandemic has on the textile market, both in the short as well as in the long run. What does this mean for the market? And for the production of printers and textiles? One certainty is that a lot of things have changed since the rise of COVID-19 in China.
In this blog I will give SPGPrints' view on some of the consequences of COVID-19 on the textile market worldwide, and why we think this might lead to an increase of digital maturity within the industry. Let's start at the beginning.
The beginning of COVID-19: how did the textile industry react?
The virus known as COVID-19 or coronavirus originated in China at the end of 2019. Now, a couple of months later, the entire world has been affected. So what has happened in the past few months within the textile industry?
To be fair, at the beginning no one thought this virus could go global this easily. Nevertheless, China has a prominent role in the textile market, so at the moment that country shut down, the consequences where already felt globally. In a response, a couple of big European brands made plans to redistribute at least part of their production orders that were originally planned for China, to countries like Turkey, Morocco, Portugal and Spain.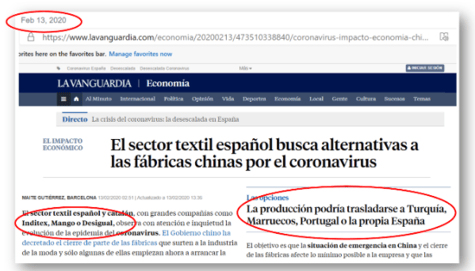 The second challenge was the fact that a lot of printing companies in the world work with fabrics that come from China. Redistributing printing orders to countries like Turkey might be a solution for the printing work itself, but if there is no cloth to print on, there will be no product.
These were the main issues the textile industry faced in January and February, when no one realized yet how big COVID-19 was going to be. At the end of February, problems started in Italy. Italy is one of the biggest players when it comes to industrial printing in Europe, and the heart of the corona impact was exactly in the same region as where most of the printing happens. Not long after the virus had shut down all activities in China, Italy announced a lock down as well, followed by Spain soon thereafter. So before we fully realized what was happening, a large part of the textile printing industry in Europe was in crisis as well.
Conventional and Digital Textile Printing: two different worlds
In March, still the textile production was at full speed in countries like Pakistan and Turkey where corona had not reached yet, but also at most European printers , both for digital printing as rotary printing. However ,there seems to be a difference in reaction and driving forces between the conventional side and the digital textile printing industry.
The conventional side we saw several of our customers hoarding; as screens have no shelf life they were making sure they have enough stock in their own hands. However, the digital textile market did not show the same behavior. The order volumes continued more or less like usual, until they stopped suddenly. This difference is probably explainable by the fact that inks have an expiration date, which makes hoarding these products much more risky.
So March was still a regular month and in April we continued to deliver to countries that were hit by the virus in a later stadium, like Mexico and some countries in South America. However, the number of countries that went into a complete lockdown grew quickly. Soon, Pakistan and India closed down as well and orders from customers in these countries went down to minimum in no time. With our local inventories and several production sites all over the world, we could manage to ensure all our customers a steady delivery in this uncertain times. And the uncertainty is becoming bigger: when can countries open up again and what happens when they do?
In the search for answers, China is a good starting point. China, as the country where it all began, is also the country that is the first to open its borders again. That happened a few weeks ago, and some differences between conventional and digital textile printing are already becoming visible again.
The digital textile printing market in China is primarily servicing the international brands from Europe and USA. The brands cancelled most of their orders awaiting signs that demand will go up again. This will happen once the European and American lockdowns are released. So despite the fact that the Chinese digital printing companies are back to work, they have less orders from that important side of their business. The domestic demand in China has recovered for the largest part, which is served more by conventional rotary screen printing. So for China, we see the demand for rotary screens picking up faster than the demand for inks. With our local sales and production site SPGPrints is able to react very fast on this demand so our customers can be sure they fulfil the orders from their customers in time.
Expectations: what's next?
What happens with the textile printing business when the global market opens up again? Shopping is an important social activity, especially now other events and social activities are being canceled all over the world. When the Western stores open up again, we expect especially the younger generation, which is the target group for many of the famous brands, to start shopping again. That's why there is a possibility that when brand shops open up again, the big brands will start ordering considerable quantities again. Some trend watchers disagree with this, as they expect that less people will have the money to spend it on branded clothes, or want to spend it on those, given the economic uncertainty.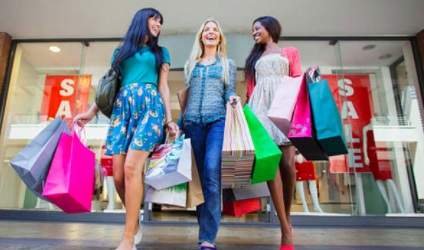 But when it happens that large, global brands start placing orders again, it is likely that they will require short delivery times in order to react immediately to the demand of their customers. Digital printing is ideal to counter this highly volatile demand. We at SPGPrints have prepared ourselves to be able to serve the digital textile printing market even when such peak in orders becomes reality.
The consequences of COVID-19 in the long run
Besides the current printing volumes, we also expect COVID-19 will influence the textile printing industry in the long run. Some of these are probably permanent. Below I will discuss some of the effects.
Shorter run lengths
First of all, the desire for shorter run lengths will increase as people feel the urge for more individual choice. When everyone starts shopping at the same time again, they don't want to run the risk of buying exactly the same as their friends or neighbors. The success of Fast Fashion is based on that behavior and therefore these brands have new collections every couple of weeks. That wish of the consumer is likely to increase significantly the first period after COVID-19. And in order to keep up with that demand, run lengths and delivery times will have to become shorter.
A lot of brands are currently skipping an entire collection, but it is very likely that their designers are not sitting still at the moment. They are desperately waiting to launch their new designs, so collections after COVID-19 can change even faster to compete with other brands. More designs will be brought to the market in shorter periods of time, which will also lead to shorter run lengths.
Shorter run lengths and sampling are main assets of digital textile printing, so this COVID-19 side effect might influence the demand for digital printing. But the shorter runlengths will also effect the demand of reliable so high quality rotary screens, while rotary printing still is in many situations the most economical printing method.
Reliable digital equipment and inks, but also high quality rotary screens are then essential to produce 'first time right' digital samples and production runs. Reliability is a key asset of SPGPrints and it is becoming now much more important.
Sustainability
The discussion around sustainability has been driven to the background a bit by all the COVID-19 news. However, now it turns out that nitrogen emissions decrease drastically when everyone works from home (one of the remarkable side-effects of COVID-19), awareness of sustainability will play a major role again when the world returns to normal. Using less fossil energy sources has proven to give an almost immediate positive effect. So it is inevitable that there will be a pressure on the industry to respond to this and ensure that production will become even more sustainable in the future.
This sustainability awareness could also trigger the switch from conventional to digital textile printing, as digital textile printing is more sustainable as its conventional counterpart. Read more about that here. Sustainability has been one of the top priorities for SPGPrints for many years already and our recent ZDHC compliance achievement is underlining this.
Doing business in the textile printing industry
Things will also change permanently in our way of doing business. Where the textile industry has always been a rather traditional industry, the coronavirus is currently removing barriers. Techniques such as videoconferencing and webinars are required to stay into contact with colleagues and customers. The expectation is that these conferencing techniques are a permanent change, as eyes are being opened and this way of doing business proves to be very simple and less time-consuming.
When travelling and visiting each other face-to-face is possible again, I expect that this will change as well. On site customer visits might happen less frequently, but the contact with these customers can become more frequent by using video calling. International business trips might reduce in frequency but for a longer period of time, so more business contacts can be visited at once and time is used more efficiently.
Service from distance
SPGPrints was one of the first companies to include remote diagnostics into their products,, like in the rotary screen printing machines, lasers engravers, but afterwards in our digital printing machines. Meanwhile, These have become already quite common to provide service and maintenance to textile printers. We expect that video conferencing with key operators on site will give our helpdesk the possibility to assist the customer better to fix small issues themselves.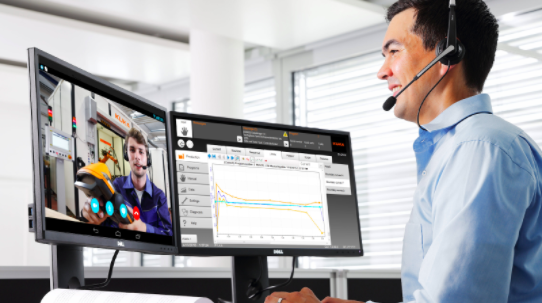 Recession Fashion
Another impact of COVID-19, the economic recession as a result of lockdown measures will influence the way we dress, too.
From historical data it is easy to see that the growth of the world population and the growth of the number of printed meters per year is increasing at about the same rate
This increase in world population is influenced by economic cycles and therefore not linear in time. Also the growth of printed meters is fluctuating around this linear growth line. What is remarkable is that this fluctuation follows the economic fluctuation in an anti-cyclic way. This means that when the economy goes down, the amount of meters printed goes up. When the economy is flourishing, less meters are printed. So in times of crisis, strikingly enough we tend to wear more colorful clothes. In better times, we wear more solids (that are dyed). Psychologists explain this by our natural tendency to cheer ourselves up in bad times, so colorful prints help with that.
For this reason, I expect that the amount of printed meters is likely to increase after COVID-19.
How to take knocks in the future: combining the best of both worlds
As described with the various consequences that COVID-19 can have for the textile printing industry, this global crisis will create more awareness at the printing companies regarding flexibility. This can be covered by the switch to digital textile printing, but also optimizing the rotary screen production, by for example direct laser engraving, which significantly reduces the time-to-press.
A drawback of digital printing that is often mentioned is that it is more expensive per printed meter. However, I expect that in the upcoming period the fast delivery requirement will be more important to companies than the cost per printed meter. In fact, the speed of digital textile printing will compensate for the potential loss of business if the brands fill their stores too late.
For larger production runs rotary printing is in many cases still the best and most economical solution. SPGPrints is active in both markets and is able to provide sound advice on this subject. Our specialists can even help you implement a mixture of both print forms, so that your company can find the perfect balance between the two printing methods. Feel free to contact our specialists and ask them about this process called Match2Print.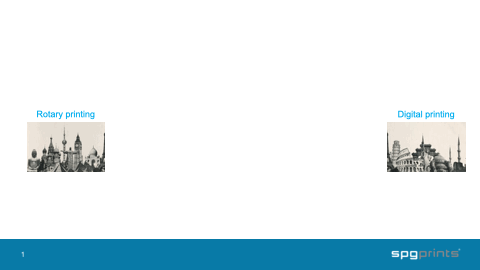 Is digital textile printing new to you and are you curious what strategic benefits it could provide for your company? In our Strategic Guide to Digital Textile Printing we explain whether digital textile printing could be of value to your company. Find a new way to become a market leader and create new business models, no matter the challenges ahead. Read our Strategic Guide here: