Are you also looking into the advantages of digital textile printing for your company? But are you wondering what's the right combination of digital and conventional printing machines? In this blog, I discuss the three possible scenario's for printing companies and share tips on how to find the right combination of digital and conventional printing machines in your production line.
Scenario 1: Taking the first steps in digital printing
In most cases, conventional printers are aware of the advantages of digital textile printing and are looking for the best way to benefit from this innovative printing technique. To not take too many risks, conventional printers often start by purchasing a first multi-pass digital textile printing machine to create samples. This saves them the time of separating colors and provides them with high-quality samples.
Although this is a good way to start with digital textile printing, there is an important disadvantage to this. When only using digital textile printers for samples, customers will expect the level of quality that they've seen on the sample. However, conventional printing machines cannot reach this level of color clarity and precision.
The next step, therefore, often is to start printing production on the digital textile printing machine as well. This helps printers to slowly incorporate digital textile printing in their business, have their customers get used to the new possibilities it provides and test if the customers are willing to pay more for the high quality of digital fabrics. When more and more customers are purchasing digital textiles from you, you can decide to enlarge your production line with a second multi-pass digital textile printer.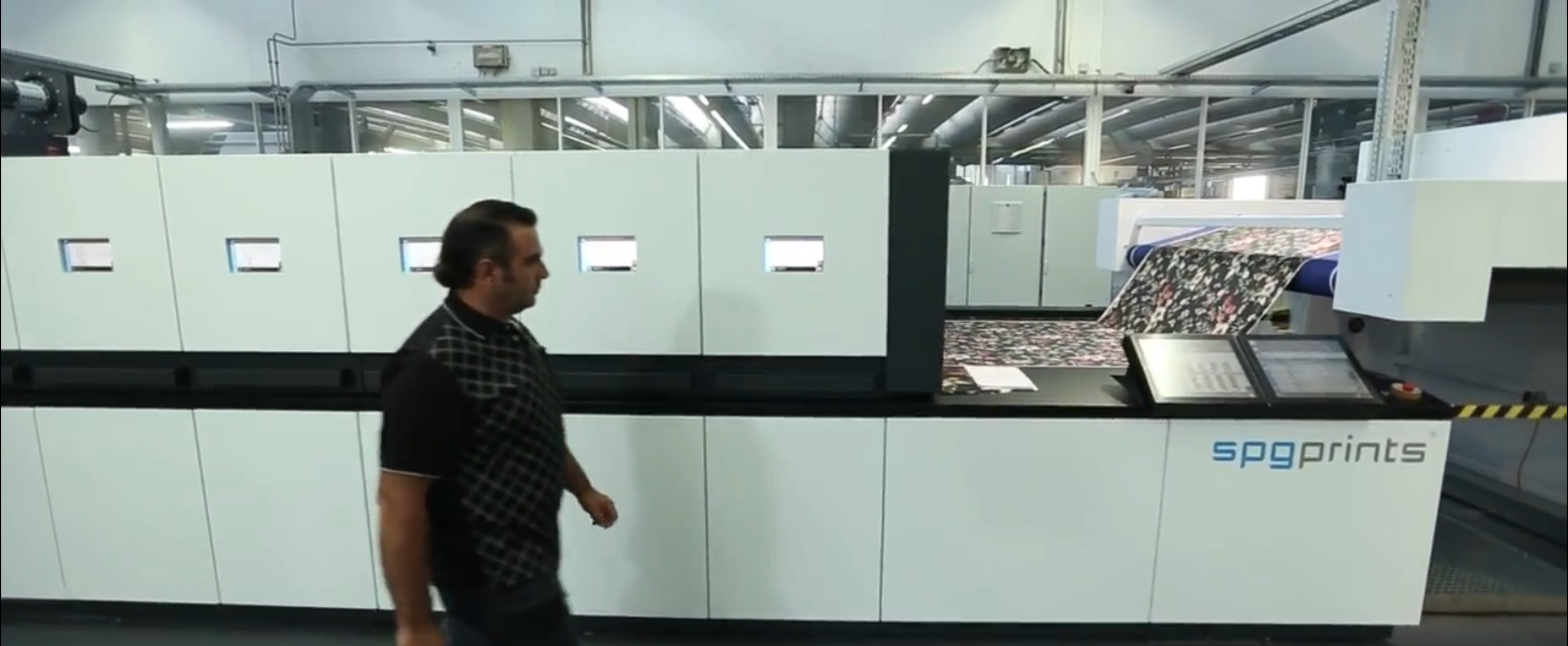 Scenario 2: Expanding production capacity with digital textile printing machines
Another possibility is that you're a large conventional printing company whose customers have been asking for faster delivery times, higher production speeds and better quality. If this is the case and you are determining if expanding your production capacity with digital textile printing machines is a valuable investment for your company, then there are some steps you should take.
Before investing in a digital textile printing machine, you first need to determine if you will be able to sell the added value. Having a printer manufacturer print a few meters on a single-pass or multi-pass digital textile machine for you will enable you to test with your customers whether they would be willing to pay a certain amount of money for a meter of digital fabric. This way, you know exactly if you will be able to get a return on your investment.
When purchasing a digital textile printer, there are two choices you can make: or you'll replace a conventional screen printer with the digital textile printer, or you'll add the digital printer to your production line. In order to make this choice, you need to know if you will use the digital printer mainly for jobs that you previously printed on the conventional machine, or if you will be able to attract a lot of new business with the new printing technique.
Adding a digital textile printer to your production line provides you with advantages that will attract new customers. In most cases, large conventional printing companies decide to add one digital textile printer to their line of production and expand when necessary.
Scenario 3: Choosing for a fully digital production line
The final scenario is mostly applicable to new printing companies who've skipped the conventional printing era and only print with digital textile machines. These companies often start with one or two multi-pass textile printers and expand with more multi-pass printers or with a single-pass digital textile printer when their business runs well.
However, these printing companies often realize that price-wise they sometimes cannot compete against conventional printing machines. This means that they have to outsource printing jobs to conventional printers, for which they pay a certain margin.
As a fully digital printing company, it is therefore wise to consider adding a conventional printer to your production line. This way, you'll still benefit from all the advantages digital textile printing has to offer, while you still can guarantee the best possible price for your customers.
Is digital textile printing truly worth your investment?
Are you ready to add a digital textile printer to your production line but do you wonder if digital textile printing could truly be of value to your company? Then it's time to discover how the transition to digital printing can help you make your business grow.
In an independent study, Gherzi identified three main investment reasons for digital textile printing. Three significant advantages that helped other printers obtain new business opportunities and realize growth.
Find out what these advantages are and if they could be of value to your company in the Gherzi white paper: