Printing on textile is a craft that has been practiced for decades. Not surprisingly, throughout these years there has been a lot of development in the field of textile printing. From hand-block printing to digital printing: the process of printing on fabric has become faster and more innovative resulting in higher quality textiles. Nowadays, the possibilities are endless.

Hand-block textile printing
The oldest and simplest textile printing technique is hand-block printing. This technique has been used by humans for decades to print patterns on textiles. For hand-block printing, a wooden block of at least 3 inches thick is engraved with a pattern and dipped in ink. Next, the wooden block is pressed firmly on the textile after which the ink leaves a certain pattern on the textile. If a print is made up of multiple colors, the block has to be pressed on the textile multiple times. A hand-block printer ensures that each print fits exactly on the first.
Copper roll fabric printing
After hand-block printing, the next development in textile printing was the invention of copper role printing. Copper roll printing is a technique that is reasonably similar to hand-block printing, but which enables a faster printing rate. For copper roll printing a role is used to print designs onto fabric. The copper roll is engraved with the desired pattern and covered in ink. Next, the copper roll is rolled over a piece of textile leaving a pattern. Copper roll printing enabled users to print larger pieces of textile at a faster printing rate than with hand-block textile printing.
Screen printing
Screen printing is a printing technique that enables users to print patterns on textile using mesh. A pattern can be created by closing the holes in the mesh at the places no ink should seep through. By doing this, a template is created which can be used for printing textiles. When covering the textile with the mesh template and applying ink over it, a pattern is created on the textile.
Rotary screen printing
In 1963, a breakthrough in textile printing resulted in the invention of rotary screen printing by Stork (today named SPGPrints). Unique for rotary screen printing is that a round, seamless screen is used instead of a flat one. The use of circular screens enables users to print larger pieces of textiles at a faster printing rate.
The screen is first covered with a lacquer, and then the screen holes that need to be open are opened. In the past, this was done by applying a film over the light-sensitive lacquer, but today most screens are engraved by laser. The printing paste is applied inside the screen and pushed through the holes by means of a squeegee.
Digital textile printing
A considerable money and time-consuming factor of rotary screen printing is that for every design new screens have to be engraved, one screen for each color. A very timely and costly practice. There was a demand for a more efficient printing technique that enabled faster and cost-effective printing rates.
Digital textile printing filled this gap by enabling manufacturers to directly print a digital design on textile. For digital textile printing, no screen is needed. This not only saves costs, but it also enables manufacturers to print unique designs rather than designs that repeat themselves every turn of the screen (typically 64 centimeters).
In digital textile printing, instead of using screens, print heads move over the fabric from left to right (scanning printers) or are placed on the whole width of the fabric (single-pass printers) which enables fast, uninterrupted printing. A design can be uploaded to the computer, processed (called ripping, which typically takes a few seconds to minutes), and then printed immediately on textile. This allows manufacturers to respond to trends rapidly since designs can be changed easily without too many costs.
Digital textile printing is the latest innovation in textile printing and is slowly making its entry into the textile industry. At this moment, about 5% percent of the textile industry has made the transition to digital textile printing. The main reasons for manufacturers to choose digital textile printing are the short delivery times, the design flexibility, the high image quality and unlimited colors, the speed, the flexibility to bring ideas faster to the market, and the possibility to print precision geometrics.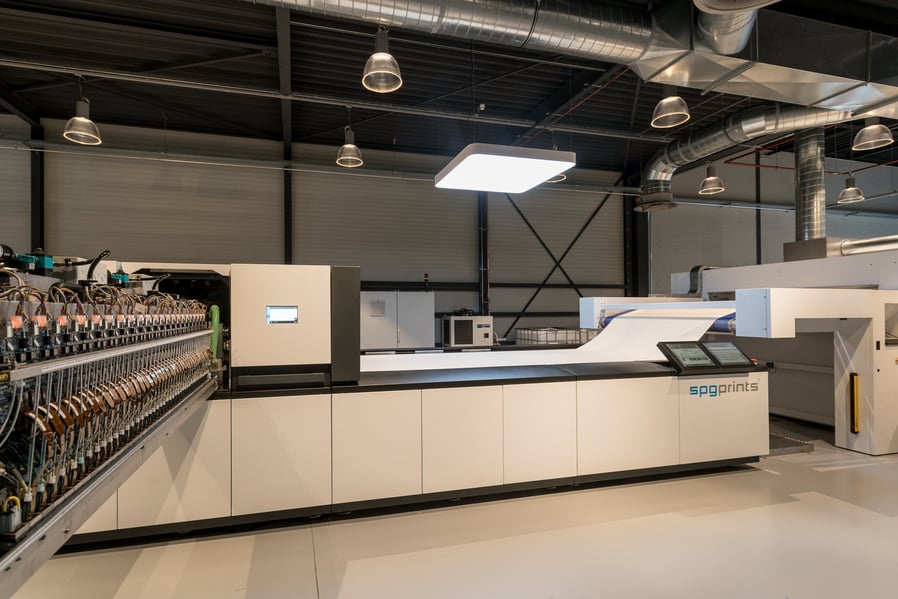 Choosing a textile printing technique that fits your requirements
The first step in choosing a textile printing technique is knowing what's out there and what best fits your customers' wants and needs. Do your customers want to rapidly print multiple designs so they can follow the latest fashion trends? And would you like to fulfill their wishes while simultaneously increasing production efficiency and lowering costs? Then digital textile printing could provide you with a fitting solution.
Textile manufacturer Adalberto Estampados also faced some of these challenges. They wondered how they were going to address the growth of fast-fashion, produce more challenging designs, and offer new standards of quality and production efficiency? With digital printing, they managed to meet their customer's demands. Read more about their success story in the case study: