Why consider digital textile printing?
Pigment inks are a popular choice for conventional printing. In fact, around 60% of all conventional printed fabrics are printed using pigment ink (source: Smithers.com). The main benefits of using analog pigment are that it is fast, flexible, and cost-effective. However, the positives of pigments in conventional haven't really translated to digital printing. Until now.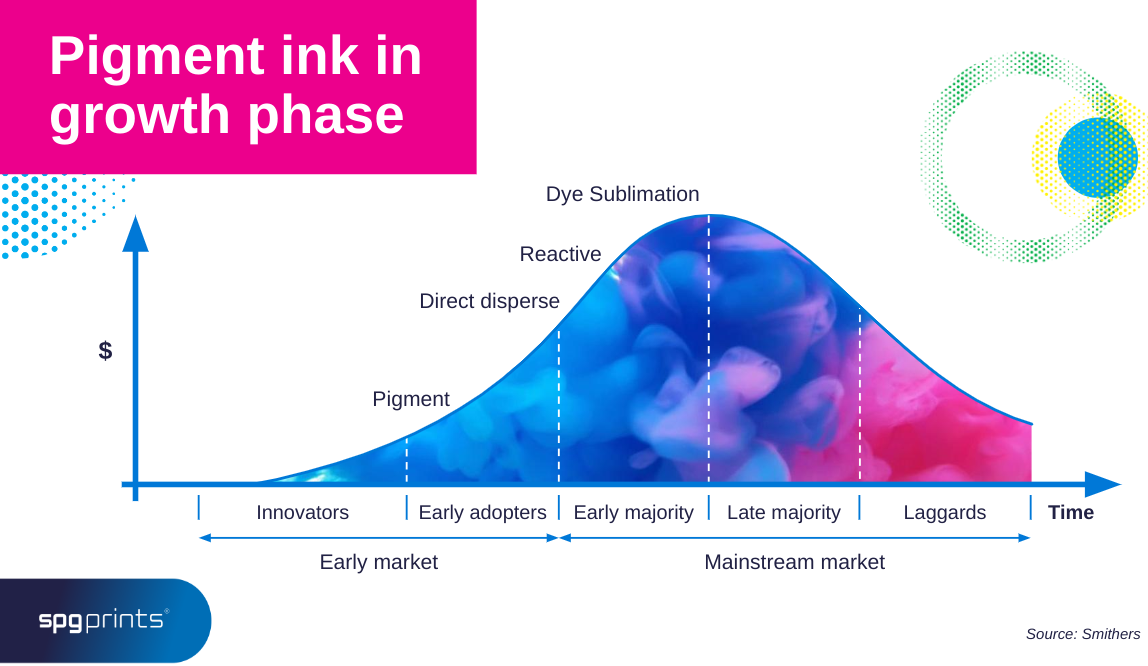 Fast forward to today, and manufacturers have invested millions in developing digital printing pigment inks. Modern digital pigments deliver flawless results for blended, natural, synthetic fabrics. They're unique in their ability to work across several fabric types. In 2023, pigment printing can be a qualitative and reliable solution for your textile printing business. Here are some of the benefits it can bring:
1. Pigment inks are compatible with blended fabrics
Pigment printing, as opposed to reactive printing, is particularly well suited for blended fabrics. Today, there's no other digital ink available for blended fabrics. Furthermore, pigment inks are compatible with natural and synthetic fabrics, making it the most versatile option.
Because pigment ink adheres on top of the material, it is especially useful for polyester/cotton fabrics: a combination that is exceeding sportswear and gaining increasing popularity in the casual clothing market.
2. Pigment inks cut your company's carbon footprint
Digital pigment inks reduce the number of steps taken in the printing process. There's no need to steam and wash the fabrics after printing, saving time and energy. In a world where the public, policymakers, and customers are increasingly interested in your environmental impact, removing the need to steam and wash fabrics can dramatically reduce your company's carbon footprint. Switching to digital pigment printing demonstrates your commitment to becoming more environmentally friendly and operationally sustainable.
3. Improved color quality and hand-feel
The fastness and color brightness of digital pigment inks have substantially improved. Today, the results are almost indistinguishable from reactive and sublimation fabric printing techniques.
Innovations in ink chemistry and pre-treatment of the fabric improve the quality of printed textiles. Because pigment doesn't have a binding characteristic, previous aqueous pigment inks suffered from lower wash fastness than other digital inks. By correctly pre-treating fabrics, you can ensure high color brilliance and significantly increase the quality of finished fabrics. While this does involve extra handling, it pays off in the finished product: soft and smooth fabrics suitable for the high standards of the fashion industry.
That said, SPGPrints Pigment Alcon-N ink does have a binder as part of the formulation. This eliminates the absolute must to apply a pre-treatment. Depending on the print job, you can take color and wash fastness to an even higher level with pre-treatment or possibly post-treatment.
Discover how our customer Creaciones Euromoda used the flexibility of digital pigment printing to their advantage.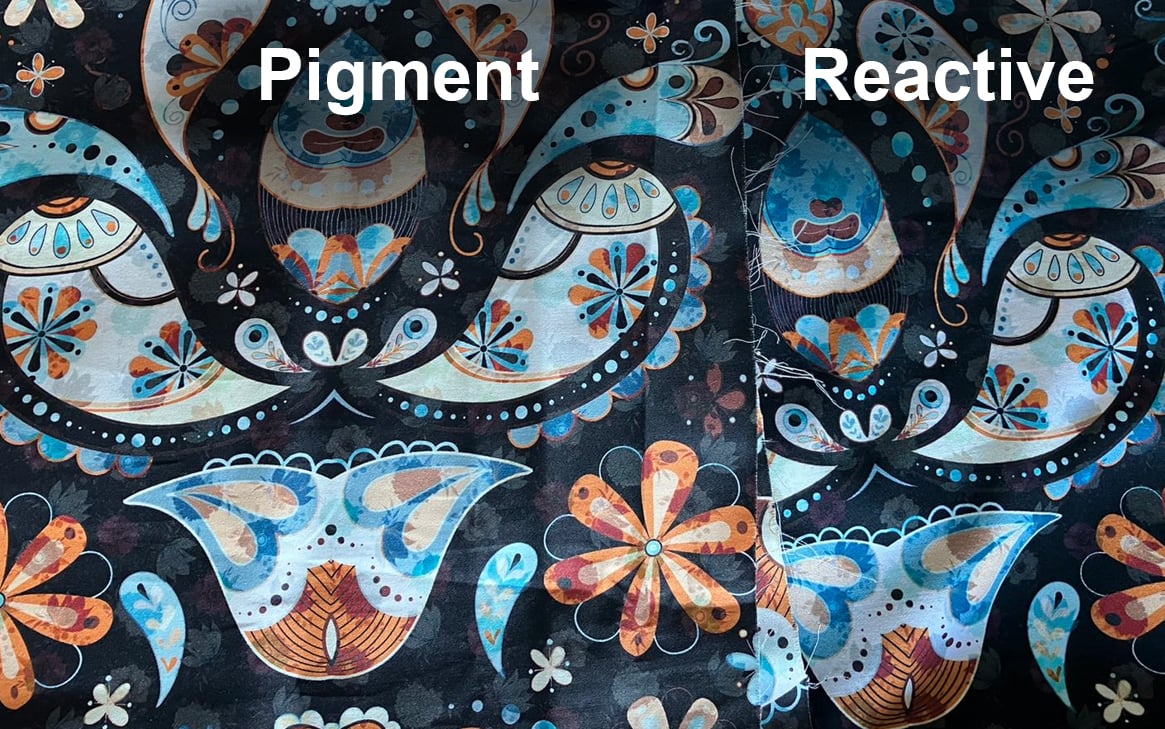 4. Excellent light fastness
Color fastness is a critical factor for the industry, and innovations are delivering. One of the outstanding characteristics of pigment inks can be found in excellent light fastness.
This makes digital pigment printing an ideal option for home and outdoor textiles. Excellent light fastness doesn't mean compromises in wash fastness. Pre-treatment ensures colors to remain vivid and vibrant to allow the applications to be used in fashion market as well.
5. Improved operational efficiency and runnability
Developments in pigment inks go fast to make them better suitable for more and more printing machines without causing any downtime. SPGPrint's Pigment Alcon-N uses advanced nano-technology to reduce particle size, which, alongside improved binders, have developed. Both improvements have eliminated issues related to clogging nozzles and downtime, leading to optimal runnability. So your operations keep running smoothly and efficiently.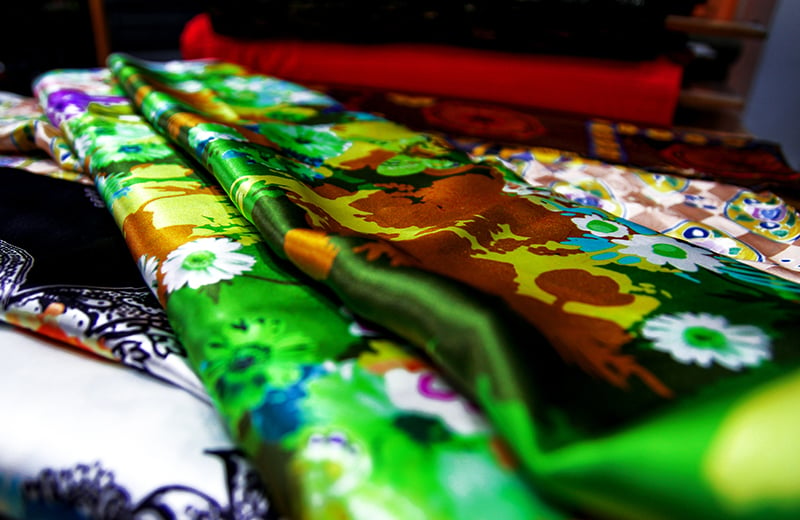 Considering digital pigment printing? A cost-effective solution
Digital printing is a cost-effective solution to your printing needs. While it may not replace all printing requirements, it offers substantial benefits that businesses can introduce to their existing operations.
SPGPrints also offers pigment inks and can provide you with expert advice on how to achieve optimal results. It is also a reliable solution, as the ink runs stable on all sorts of printers. Our Pigment Alcon-N is available in 8 colors and compatible with Kyocera and Konica Minolta print heads. It is available together with SPGPrints Jasmine and Violet digital textile printers.
Curious to learn more about the benefits of pigment inks and what this could mean for your business? Read our recent case study about Creaciones Euromoda to find out how they managed to deliver the highest quality while remaining competitive in the market: