Most print heads used in the textile industry are derived from the print heads that are created for and used in the graphic printing market. These types of print heads are perfectly suitable for printing on flat and even materials but are not ideal for the typical three-dimensional structure of textile fabrics. Nonetheless, this type of print head is widely used in the textile industry.

The cause of print head damage and how to reduce it
The main frustration among textile printers was frequent print head damage due to their close position to the substrate. Print heads used in textile printing are based on the ones used in the graphical market. Within this market, only flat materials have to be printed on and the print heads are positioned close to the material. Because of the close position to the substrate, print head damage occurs with thicker fabrics, resulting in high costs for textile printers.
SPGPrints offers a solution with Archer+, an innovative printing system that helps printers to increase quality through its smaller drop-size range and higher resolution (true 1200 dpi). The Archer+ technology was created as there was a high need for printers - and print heads especially - suitable for digital textile printing.
With this technology, printers are offered both precision and a significantly greater jetting distance than other print heads. The nozzle plates in the Archer+ print bar are situated at least 4 mm away from the substrate surface, compared with the typical 1.5 mm nozzle-fabric distance offered by other print heads. This longer jetting distance greatly reduces the risk of head strikes and reduces replacement costs. Because of its high jetting frequencies, small drop size and high resolution, the Archer+ technology assures fine line details, blotches and tonal curves.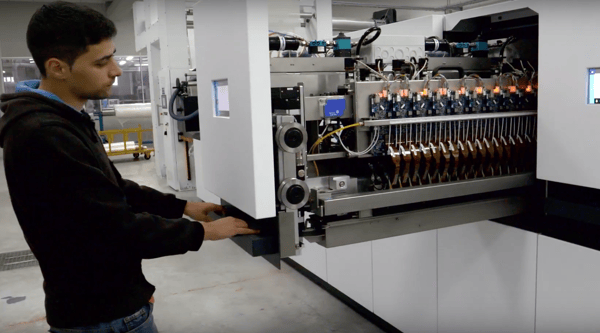 Why is this crucial for digital textile printing?
The Archer+ technology was created especially for textile printers to reduce their struggles, help them save costs, and increase the quality of their prints. This makes it a valuable asset for digital textile printers. Besides the advantages of the high jetting distance and reducing print head damage, this technology has a couple of additional advantages:


In the Archer+ print bar, the printing ink is circulated constantly to make sure it does not dry out at the nozzle openings. This means that the printer is ready to print at any given moment without the need for a purging cycle to open the nozzles. You don't lose any expensive ink because of this purging. This contributes to the lower ink usage of the Archer+ technology, which is up to 20% lower than other printing technologies. You not only save ink, but also save costs and print more environment-friendly.


Print heads have a longer life-span
Print heads damage occurs easily when they are positioned close to the substrate and come in contact with the fabric. This shortens the lifespan of the print heads and repairing print head damage costs you a lot of money. In most cases, the warranty from printer manufacturers and print head manufacturers does not apply to print head damage from the outside.
Good to know: SPGPrints offers a unique warranty period of 30 months on the print heads of Archer+ technology.


Fixing print head damage in a number of minutes
In the case of damage, you want to be able to easily repair or replace a print head so you can continue using the printing machine. In most digital textile printing machines it is very difficult and time-consuming to fix such print head damage. For that reason, the Archer+ print heads are positioned on a print bar that can be easily pulled out of the machine. This way, damaged print heads can be easily replaced by new ones. Is the damaged print head not older than 30 months? Then you can send the damaged print head to SPGPrints and receive a new one, free of charge.


Experience the unlimited possibilities of Archer+
The Archer+ technology offers printers both precision and a significantly greater jetting distance than other print heads. On top of that, the print heads deliver unsurpassed quality and are less prone to print head damage. This helps printers to meet their customer's demands, save costs and maintain an uninterrupted printing cycle.
Curious how this helped other printers to offer new standards of quality and increase their production efficiency? Turkish textile printer Tekboy Tekstil wanted to print more challenging designs and increase their production efficiency to keep up with the growth of fast-fashion.
SPGPrints' Archer+ technology helped them produce precise, detailed designs of high-quality and keep up with their customer's demands. Learn more about their success story in the case study, or read more about Archer+ in this free-to-download Whitepaper: