Every printing application demands the highest possible printing quality. As a printing company, you want to make sure that you meet the demands of your customers while keeping a sharp eye on economics.
In other words, you need to find the tools that perfectly fit your printing process and the specific application. That is why our ink experts introduced Performance Levels in our ink portfolio. But how do you find the perfect ink for the job? In this blog, we introduce these Performance Levels and explain how you find the perfect ink for your application.
3 Performance Levels for Digital Textile Printing Ink
As the performance of digital textile printers increases, higher volumes at faster speeds are demanded. This makes downtime more problematic than ever before. That is why all digital textile printing inks we create are optimized to ensure a long printhead life without the risk of corrosion or blockage of the printheads.
The textiles market evolves on aspects like sustainability, delivery times and a faster supply chain. This means our ink portfolio has to evolve in the same way. Three Performance Levels enable an appropriate ink solution for every demand. Pasha can be seen as the perfect balance between performance and value. For the more demanding applications and designs, Morpho is more suitable. Alcon is recommended when outstanding performance and brilliant colours are required.
To find the right ink for your application, your digital textile printer and the desired end-product are of the utmost importance. Your specific application or design defines the optimal mix of colour intensity and economics. The challenge is to get the desired quality in the most economic way.
There are four important steps to finding the right ink for your printing process:
1. Assess the application
The fit between ink and fabric is very important. On which type of fabric are you going to print and what requirements do you have for colour brilliance or fastness? There are four types of ink, all specialized in their own application:
Reactive Inks for printing on all-natural fibres
Acid Inks for printing on polyamide lycra, wool and silk
Sublimation Inks for printing through transfer paper onto polyester
Pigment Inks for all possible fabrics, especially blends
2. Match your technology
Five different ink formulations have been developed for each chemistry to ensure perfect runnability in your digital printer. These various formulations are necessary, as all common industrial inkjet printheads require their own specific physical parameters.
The formulations of the four ink types are optimized to ensure a long printhead life without the risk of corrosion or blockage of the printheads.
This second step of the ink selection process is to match your technology with the ink formulation. Simply share the brand and model of your digital printer(s) with one of our application specialists. They will use their ink experience to give tailored advice on selecting the correct ink.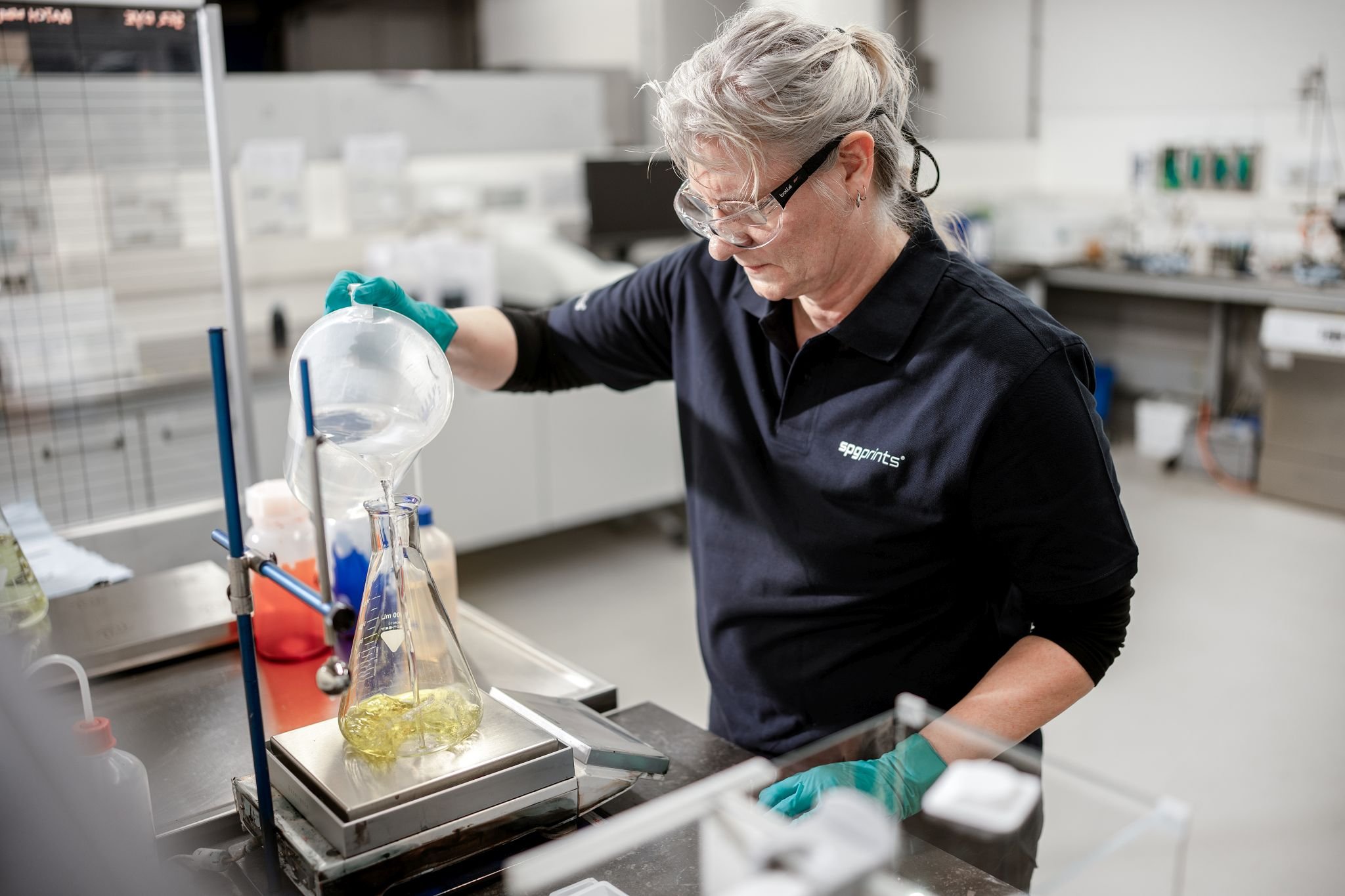 3. Find the best fit in colour richness and application
As stated before, thanks to the Performance Levels there is an appropriate ink solution for every demand. After all, the optimal mix of colour intensity and economics is defined by the application.
Are you printing fashion or home decor designs? And are you printing for a brand or do you manage your own collection?
These are all very different applications with their own demands and criteria. That is why we took our most used inks and created Performance Levels within their categories. Thanks to this, you can freely mix and match to suit your application(s).
We named these levels after the most colourful animals in nature: butterflies. Pasha, Morpho and Alcon ensure that every print job has the desired quality at the right cost.
4. Pick all the right colours
In the end, it is also crucial to select the right colours for your application. For example, printing for the high-quality fashion market requires deeper, richer colours than home textiles do. Darker blacks, hotter pepper reds, brighter oranges, and so on.
These challenging fashion colours can be printed with our digital textile printing inks through a wide range of Deep and Absolute Black (VS and MCT), Cyan, Magenta, Yellow, Blue, Orange, Red and Grey.
For some chemistries, there even are special colours available: Pepper Red, Green and even a special penetration fluid, specially developed for prints that demand an equally qualitative image on the backside and the front side.
New ink formula: N▸RICH technology
In addition to quality and performance flexibility, sustainability is more important than ever. Our ink specialists not only wanted to prepare our ink portfolio for a big variety of markets and segments but also wanted to prepare our inks for the future. Based on our "Printing Tomorrow" philosophy, we reformulated our ink portfolio.
When selecting ink components, all known substances from major brand RSLs (Restricted Substance Lists)are considered. This means that all guidelines like REACH, Oekotex and ZDHC are being met. This way of producing our digital textile printing inks sustainably is called the N▸RICH technology.

The new ink formula is being introduced for all colours. The chemistry still aims for maximal colour efficiency with the best available dyes - but will be more sustainable than ever.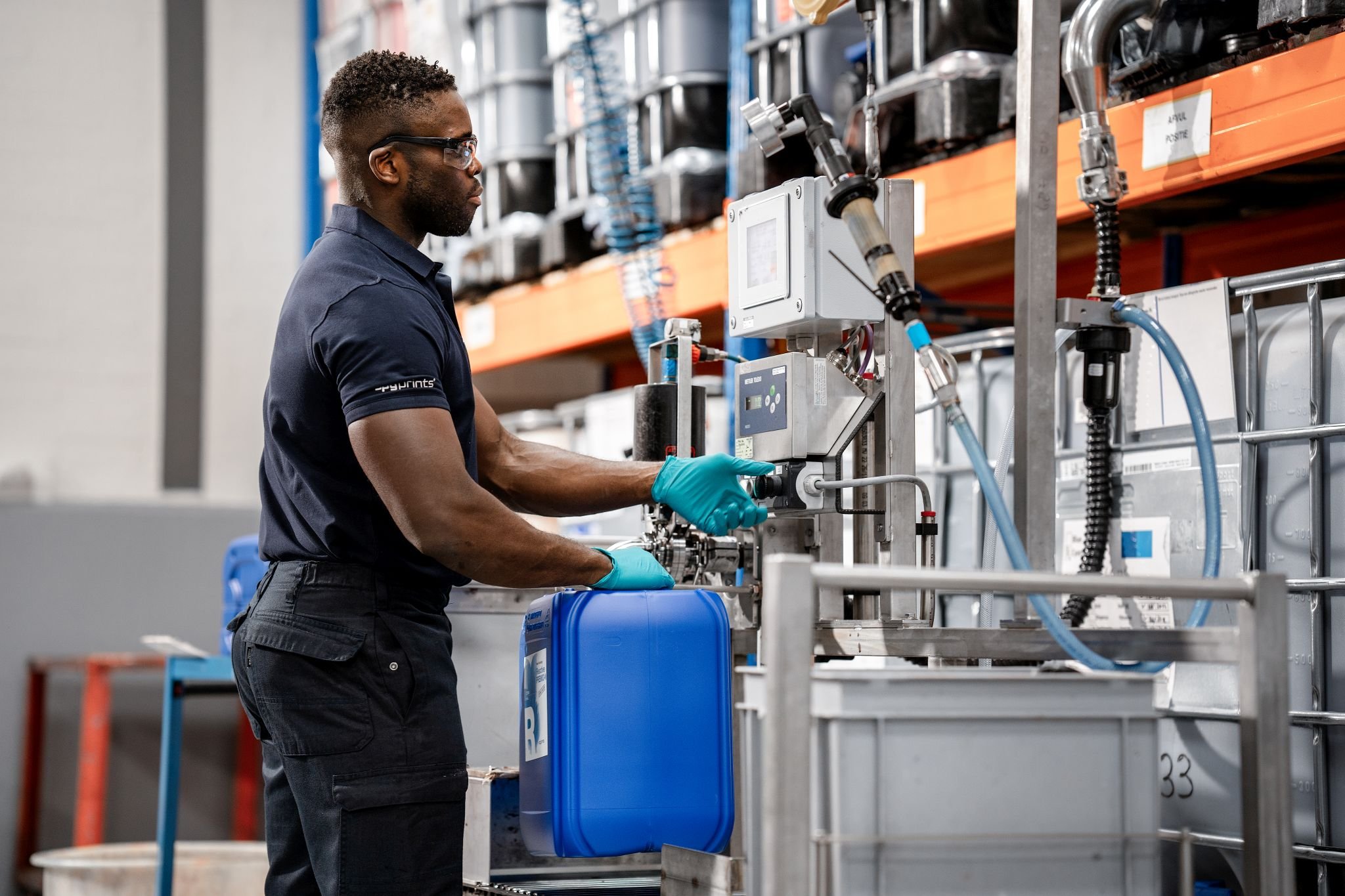 More information about SPGPrints' Ink Portfolio
Using the right ink enhances the productivity of your printer and makes sure you deliver exactly the quality your customers demand. Do you want to read more about the technical specifications of our inks? In the leaflets below, you can find the technical specifications of the various ink types:
For more information, you can also download our free Inks Brochure here:
Of course, you can ask all other questions related to your printing business as well. You might find your answers in the Digital Textile Printing Guide, written by our experts, but they also love to answer your questions personally.